The Finnish Kennel Club was founded on May 11, 1889. The first dog show was held in Helsinki in 1891. In 1896 the first copy of the magazine "Our Dogs" was published.
In 2011, about 600,000 dogs were registered in Finland, including about 450,000 breed dogs. The dog lives in every fifth Finnish family.
About 300 dog shows are held in Finland every year. About 160,000 dogs participate in them.
We've compiled a list of Finnish dog names for your inspiration.
Finnish Female Dog Names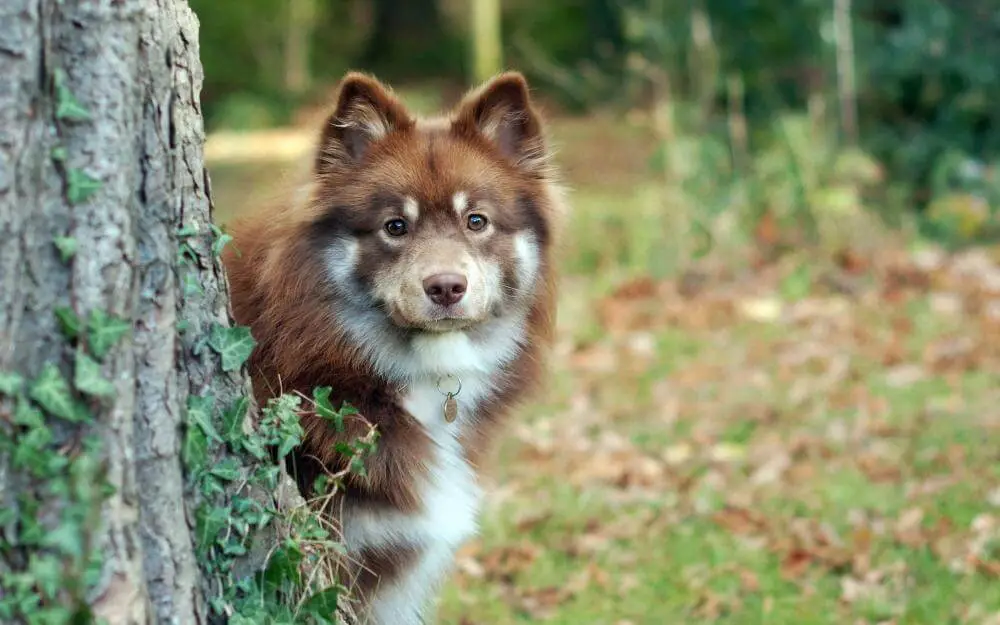 Kaarna: Bark of a tree
Isebel: Jezebel
Otso: Bear
Peni: Old word for "dog"
Aatami: Adam
Taimi: Seedling
Annikki: Pet name for Anna, Grace
Nyyrikki: Young ruler; god of the hunt
Jalo: Noble
Milla: Noble, freeborn
Feeli: Felix; happy
Ensio: First, primary
Kulta: Gold
Aatu: Aaron
Elämä: Life
Tuli: Fire, flame
Armas: Beloved
Jorkki: Pet form of Jori or Jörgen meaning farmer or earth
Aleksi: Defender
Inari: Name of a lake, successful
Mainio: Excellent
Ukko: God of the sky and thunder
alto: Wave
Aarre: Per form of Aron
Sanna: Short oft Susanna, sann meaning truthful
Finnish Male Dog Names
Niilo: Victor of the people
Mielikki: Goddess of the forest, from mielu meaning luck
Mainikki: Praised, excellent
Salla: Name of a mountain
Lumi: Snow
Halla: Frost or freeze
Auvo: Honor
Leevi: From Levi, attatched
Kulta: Dear, sweetheart
Aku: Pet form of Akaaton, meaning venerable, majestic
Kaiku: Echo
Joona: Jonah
Heinä: Hay
Inka: Folk heroine
Sirke: Perky, Lively
Aarne: Bird
Larssi: From Lars, meaning laurel
Oiva: Splendid
Nalle: Teddy bear
Aate: Thought, idea
Iisakki: Isaak, he will laugh
Kesä: Summer
Tapio: God of animals and the forest
Maikki: Pet name for Mai, pearl
Birita: Exalted one
Syksy: Autumn
Floora: Flower
Rae: Hailstone
Raisa: Adaptable, relaxed
Kielo: Lily of the valley
Aave: Ghost
Panu: City dweller
Edel: Noble
Katja: Pure, pet name for Ekaterina
Ahti or Ahto: God of the sea
Lauha: Gentle
Pekko: God of brewing
Koira: Dog
Kauno: Beautiful
Ansa: Trap
Aino: Only one; character in The Kalevala
Kuu: Moon
Kesä: Summer
Marja: Mary; berry
Kosto: Vengeance
Vaito: Silent one
Finnish Lapphund Names
Betty
Fifi
Vicki
Twiggy
Foxy
Rosy
Annie
Katie
Girlie
Gracie
Cupid
Cutie
Misty
Tootsie
Penny
Tinks
Queenie
Angel
Brenda
Bunny
Roxy
Sammy
Missy
Lily
Bambi
Chloe
Kissy
Brandy
Molly
Shelby
Princess
Zoe
Babykins
Maggie
Bella
Sassy
Princess
Babydoll
Twilight
Abby
Sasha
Coco
Heidi
Empress
Pixie
Harley
Maddy
Sheba
Sweetie
Sandy
Lucy
Foxy
Lady
Sadie
If you have not found your Finnish dog names here, write in the comments, and we will be happy to include them in the list!