Pomeranian is a miniature decorative breed, looking at which the thought arises that such a cute animal cannot create any problems. In fact, in order for a pet to be cheerful and healthy, you need to properly and regularly take care of it.
Can Pomeranians Live in Apartments?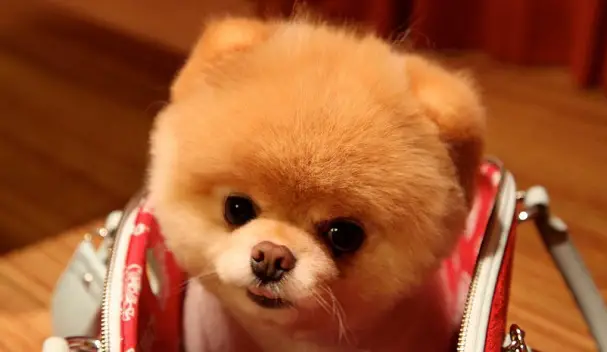 Pomeranians are great for keeping in apartments, even in small format. Their miniature size allows the dog to get along well in a small area and feel as comfortable as possible. The main thing is to provide your pet with proper care and timely support.
Important! Pomeranians are very active. If the dog is often and for a long time alone, the owner needs to provide entertainment for him. Otherwise, the "little hurricane" will blow everything in its path.
In general, this breed is suitable for people who spend a lot of time at home or have the opportunity to take a dog with them on travel and business. In this case, the Pom will be pleased. In addition, early training will help curb the somewhat capricious personality of the Pomeranian.
Is a Pomeranian a Good Apartment Dog? – Care Tips
The key temperament trait of the Pomeranian is hyperactivity. If you do not give the animal a good run out on the street and do not provide decent entertainment at home, you can see complete devastation and gnawed things when you return home from work. Toys and active games while walking will help minimize risks.
Important! With a dog, you need to spend a lot of time and play for a long time. Only in this way, and with the help of regular training, he will understand that it is impossible to gnaw the owner's things and make a mess in the apartment.
In addition, you need to provide your pet with competent care, balanced nutrition, and timely walking. The Pomeranian has some characteristics that need to be considered before buying a puppy.
Care Tips
The main feature and dignity of the Pomeranian is their fluffy coat. In order for the animal to always look attractive and well-groomed, you need to regularly take the dog to the groomer. There, his coat will be taken care of and brought to its normal state, getting rid of tangles and tangles.
You can carry out the procedure yourself if you study the basic principles of cutting Pomeranians. Also, do not forget about trimming the nails, brushing teeth, ears and eyes, which dogs of this breed need. With proper and careful care, your pet will always be healthy and look attractive.
Diet
The quality of the diet also affects the dog's health. If you do not have the ability or desire to prepare a balanced meal for your pet, it is worth buying good dry food from premium brands. It contains all the essential ingredients for a dog's health and energy.
When self-preparing food for a Pomeranian, you need to take into account that most of the diet should be meat and offal, as well as fish. If the animal refuses to eat fish, you need to replace it with fish oil added to the diet. It contains a huge amount of nutrients.
Dog Walking Tips
Pomeranians are very active dogs. They need regular and fairly active walking in the fresh air for at least one and a half hours a day. Moreover, a simple exercise at a leisurely pace will not work. The dog needs to "run out" well so that it comes home to rest.
In general, caring for the Pomeranian will not cause much trouble, and the pet itself will bring many bright and memorable moments. However, in order for the animal to feel comfortable and have excellent health, the rules for keeping Pomeranian should be adhered to.