Officially allowed for dogs of the Miniature Schnauzer breed are only four colors: black, white, black with silver, and "pepper and salt". However, in addition to them, there are many options that, although unrecognized, are quite popular. One of these is considered to be brown (chocolate). Moreover, puppies with unusual non-standard pigmentation are born in litters throughout the history of the breed.
Chocolate Mini Schnauzers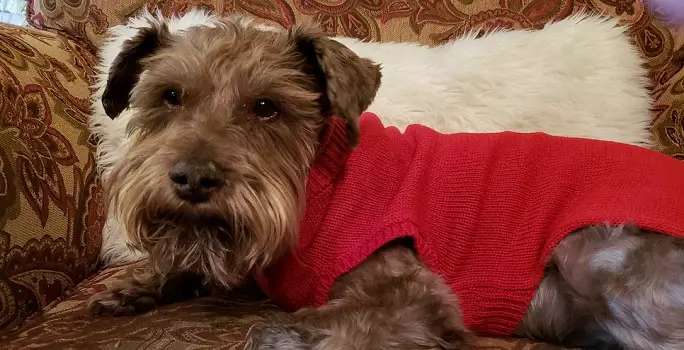 The first miniature schnauzer puppy with chocolate hair was born in 1994 in Czechoslovakia. Interestingly, the baby's parents were black and silver. However, due to the fact that the babies had a male gender, it was not possible to start breeding a new color. But that all changed after a few years. Already in 1997, brown puppies of both sexes were born. As a result, the color was named "chocolate-tan".
Important! More precisely, the genetic breed of this coat color in miniature schnauzers could be conveyed by the name "brown and tan with silver."
Dogs with brown color have a very beautiful coat, casts black. Some individuals have white or beige spots on the legs, chin, and chest. The color of the eyes in these dogs is either brown, or yellow, or blue. The chocolate tan color is characterized by cream tan markings. Both coat colors are extremely rare. They are not allowed to attend exhibitions.
For brown puppies to appear in the litter, the parents must be:
Both are chocolate. Then all the droppings will be chocolate and tan.
One is chocolate and tan and the other is black and silver. In this case, one part of the puppies will be similar to one parent, the other – to the other.
Both are black and silver. Puppies will have the required color if the parents are carriers of the brown gene. The result of this crossing is that only one-third of the puppies will be chocolate and tan.
Today, the breeding of miniature schnauzers with this unusual color is carried out informally. Nurseries are located in Russia, Ukraine, America. Official breeding was prohibited, although it is not associated with genes of hereditary diseases.