Name: American White Shepherd
Other names: White Swiss Shepherd, White Canadian Shepherd, White German Shepherd, WS, WGSD
Country of origin: USA
Size Type: Medium Breed Dogs
Group: Non-standard
Life span: 12 – 14 years
Temperament: Indifferent, alert, comradely, fearless, impatient, self-confident
Height: Males: 60-65 cm; Females: 55-60 cm
Weight: Males: 35-40 kg; Females: 35-40 kg
Color: White
Price of puppies: $1000 – $1200 USD
Hypoallergenic: No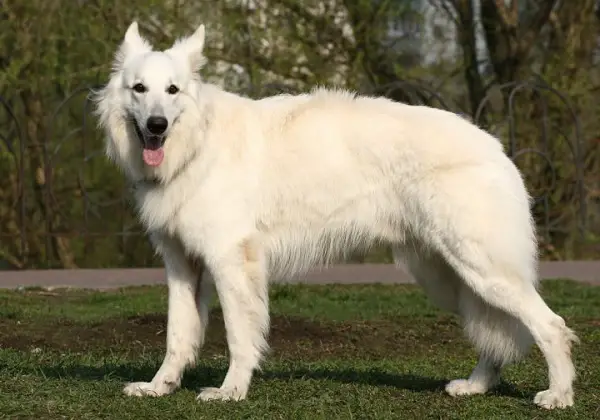 The Canadian American White Shepherd Club has been founded to produce and preserve White Shepherd Dogs since 1971. Originally a subsidiary of the American White German Shepherd Club, it became an independent organization in 1973 and was renamed to its current name. In that year, the first show of the club was held, in which 8 dogs took part and 25 people attended.
The American White Shepherd, as described by the United Kennel Club, is a well-balanced, muscular, medium-sized dog. Slightly longer than taller, with clean white hair of medium length, protruding ears, and a low-set, uncropped tail that usually reaches the hock and is worn slightly curved like a saber. The white shepherd dog is quite strong in its physical qualities, but not huge and not bulky, it should look fit. The profile of the White Shepherd Dog is smooth, not angular. When moving to a trot, he begins to move in large leaps due to a strong push with his hind legs. The hind legs move forward, under the front legs, to the place where the trail was left by the latter. The difference between the sexes is very noticeable.
Introverted, alert and careful, sociable, fearless, energetic, self-confident.