Akita Inu breed imported from another corner of the planet. Therefore, it can be considered exotic for our territory. It is very important to properly maintain a dog and know all the nuances of its existence. This is the only way to enjoy the company of a physically and psychologically healthy animal.
Akita Inu: Nutrition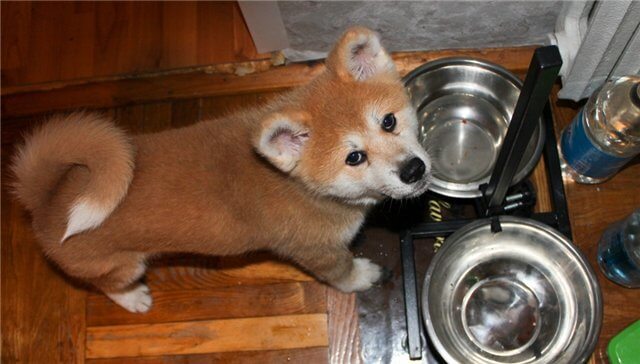 The first thing to decide is the type of diet. You will have to choose from three options:
ready-made feed for industrial production;
only natural nutrition with products;
combined diet (natural alternate with feed).
Natural Food for Akita
In the homeland, dogs have been fed rice, fish, and seafood from time immemorial. The diet also included very healthy, micronutrient-rich algae. Fruits and vegetables are obtained from Akita vitamins. Any other food can be a real torture for the breed – from allergies to indigestion. What should not be given to a dog of the Akita Inu breed:
poultry (chicken, turkey, duck);
beef of any age;
fat milk;
wheat and oat groats, corn products.
The above foods can cause allergies in your dog. You can try to give it, and if there is no reaction, periodically include it in the diet. But only periodically.
The ideal Akita diet consists of meat: lean lamb, horse meat, rabbit. The meat of wild animals – deer, roe deer, elk – is suitable for Akitas.
Fish is the main component of good nutrition for the breed. Any form of algae should be added to the fish. This is a genetic necessity for the normal development and existence of a dog.
Akitas well tolerate fermented milk low-fat products.
Rice, buckwheat, and millet porridge (whole grains) are suitable for cereals.
Among vegetables, preference is given to pumpkin, zucchini, carrots, and even onions.
By-products should be included in the diet at regular intervals. Once every 7-10 days. It can be liver, heart, boiled lung.
Ready Feed
For Akitas, special types of feed have certainly been developed. They are enriched with iodine, which is so necessary for the breed. All substances are balanced. In addition, it is possible to choose food for a dog with food allergies. All the necessary information is indicated on the feed packaging.