Shar-Pei is not a dog that can eat any food. In addition, these animals are prone to the development of allergic reactions, obesity, and the formation of endocrinological pathologies. Therefore, the selection of the diet for these pets should be given as much attention as possible.
How to Feed Shar-Peis?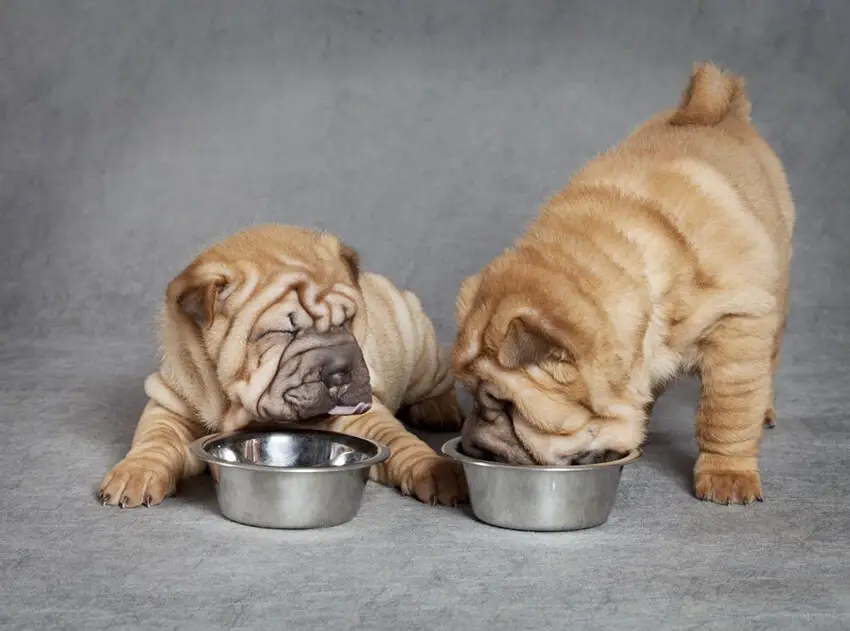 Puppies receive breast milk or formula during the first four weeks after birth. From the second, it is allowed to introduce complementary foods. It can be canned food, milk, yolk, minced meat, vegetables. The number of meals is gradually reduced from 6 to 2 times a day.
Important! Dog handlers advise paying attention to the build of the dog. The larger the puppy, the more nutritious its food should be.
At the moment when the pet is one year old, the owner must decide how to feed the pet further. There are two options to choose from:
Industrial feed. For Shar-Pei, it is better to choose food marked "holistic". In addition, there are special breed lines designed specifically for Shar-Pei. You can use drying every day and periodically treat your pet with wet canned food, pate. The dosage regimen is usually indicated on the package.
Natural food. You need to prepare meals for your pet every day, separately. From vegetables, it is better to choose carrots, beets (raw or boiled). You can season porridge with leafy herbs, olive oil. Of course, you can't do without meat. Best of all, representatives of this breed assimilate chicken, beef, turkey, and lamb. It is better to give bones in their original form, they help to clean teeth better. Fish are rarely given boneless, seafood. Quail eggs, cottage cheese – will become a source of vitamins.
You cannot treat Shar-Pei to sausage, sweets, broths, bird bones, wheat, and pearl barley. Leftovers from the owner's table are also contraindicated for these dogs. They can cause indigestion and allergies.
Dog handlers recommend feeding adult Shar-Pei twice a day after a walk. In the morning, it can be raw meat, cut into small pieces. In the evening, you can offer your pet vegetables, milk, porridge. If the Shar-Pei is on dry food, then every time it should be the same portion of drying.