Yorkshire Terriers are one of the most popular domestic breeds today. They are small, very cute, inquisitive, and owner-oriented animals that fit perfectly into the home and do not require too burdensome care. However, due to its popularity, the breed suffers. Many unscrupulous breeders do not burden themselves with maintaining the natural standard. This is how various types of Yorkies are obtained who cannot make an exhibition career but are very beautiful and cute in appearance.
[lwptoc]
White Yorkie: Myth or Reality?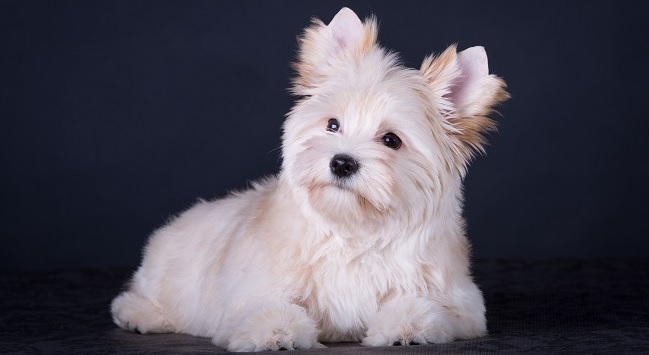 The white Yorkie is not part of the breed standard. But this subtype has its admirers. Breeders could not fail to notice the external attractiveness of cute white fluffies, so they started breeding a new subspecies – Biewer-Yorkies or Biewer Terriers.
Important! White Yorkies were first bred in 1984. Already in 1989, the dogs were recognized by cynologists of all countries.
Dog breeders note a number of pros of this breed:
small dogs are very brave and can recklessly enter into a fight even with an opponent much larger than his size;
are good guards with a sonorous and loud voice, as well as unsurpassed hearing;
well trained, very intelligent dogs;
focused on the owner;
love long walks and are great for citizens with an active lifestyle;
get along well with young children.
But, despite a large number of pros, such a dog has a number of "cons". In particular, the dog can be very quarrelsome with other animals in the apartment. In addition, Yorkies are sometimes capricious and demanding, forcing the owner to devote all his attention only to him.
Small dogs are cold in the autumn-winter period, additional costs for pet clothing will be required. Excessive courage can do a disservice. Yorkies can attack dogs that are much larger than them.
White Yorkie Origin Story
German dog handler Werner Biver first started breeding attractive dogs in 1984. They were previously rejected by the official canine communities. He managed to popularize the subspecies and already in 1989 the dog handlers recognized a new branch of the breed – Biewer-Yorkies. The first representatives of this subtype had a white base with black and golden-red stripes.
In terms of external characteristics and temperament, this miniature dog completely repeats the standard but differs in its small size and friendly disposition. White pets will become the favorites of the whole family and will get along well, even with small children.
Biewer Terrier: Helpful Info
Biewers are included in the list of the smallest breeds, their weight does not exceed three kilograms. There is no definite standard for height and weight, but well-known breeders prescribe to purchase adults weighing no more than 2 – 3 kg.
All indicators of beavers are strictly individual. The average weight of the breed is about 17 cm. Females are usually somewhat heavier and taller than males. They also differ in some exterior features.
Biewer ears are erect, eyes and nose are black. Parting starts from the tip of the nose and continues to the tip of the tail. The coat is equally long over the entire surface of the body, hanging evenly on the sides of the animal.
Coat Color
It should also be noted that there is no pure white color in the breed. There are various variations based on white color, with red or gray spots. The subtype certificate has not been issued, however, there are a lot of color variations.
So the head part of the puppy can be:
white with a golden blue tint;
white with golden black.
The body part can have shades of white-black, white-blue, black, blue with a white-collar. Biewer's coat is unusually thick and heavy, in contrast to the standard breed type.
It is noteworthy, but despite the appearance of beavers as a result of crossing different breeds or a gene mutation of parents, no health pathologies are observed in representatives of this subtype. They are as cheerful and attractive as the standard Yorkies.