Jack Russell Terriers are very cheerful and energetic dogs, which, with their cheerfulness and tirelessness, do not let their owners or neighbors get bored. Russells are divided into three breed lines, which differ only in structure and long coat. One of the lines is the Wirehaired Russell Terrier.
Wire Haired Jack Russell Terrier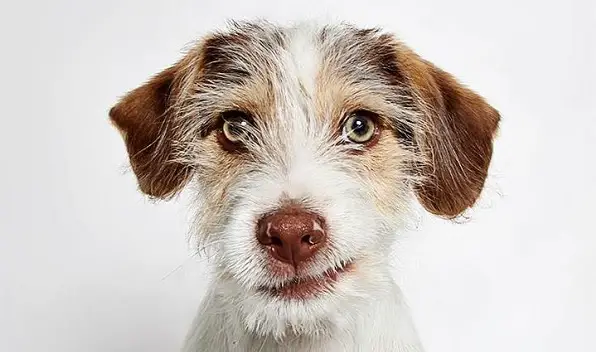 Jack Russells are divided into:
smooth-haired;
long-haired (they are also wire-haired);
brokens.
Important! Wire-haired terriers are not as common as smooth-haired because of their special grooming requirements.
Wire Haired Jack Russell: Helpful Information
Each line has its own characteristics, but the general standards of appearance remain unchanged:
height not more than 30 cm, weight not less than 6 kg;
the body resembles a rectangle in shape;
almond-shaped eyes, black;
ears are small, raised on cartilage;
the color is predominantly white with spots of red or black (tricolor possible).
Wire-haired Jack Russell Terrier: Appearance
Unlike its smooth-haired counterparts, the wire-haired Jack Russell has a dense and stiff coat. Compared to other breed lines, it is quite long, slightly bulging in different directions.
You can distinguish such a terrier from a standard one by the dog's lush eyebrows and beard. Brokens also have such decorations, but not as "rich" as in the long-haired subspecies.
Jack Russell Terrier: Wire Hair Care
The big plus of dogs of this subspecies is that they do not molt as abundantly as in other dogs. If in the warm season the apartment where the terrier lives is humid enough, then the owners may not even notice that their pet is changing the old fur coat to a new one.
What is the minus of the Wire-haired Terrier is the need for regular trimming – plucking out dead hairs. The procedure requires perseverance from both the person and the pet. It is necessary to accustom the dog to trimming from a very early age so that it can calmly sit out the entire procedure.
Important! Trimming an adult dog that is unfamiliar with the procedure will hurt it.
By nature, the Wirehaired Terrier is no different from the "Broken" or "Standard". All breed lines are characterized by the same genetic pathologies and the possibility of developing certain diseases acquired with age.
Where to get a Jack Russell Terrier
There are several ways to get a Jack Russell Terrier. The easiest way is to visit a local pet shelter or rescue to see if they have one. This is the most affordable way to get a dog, and you are able to help a dog find a loving home.
Looking to buy a small dog? Check out Premier Pups. They're a retailer based in Johnstown Ohio that specializes in small dogs like Jack Russell Terriers. If you don't live near this breeder, you can likely find another breeder near you.